ENCINTAS COUNTRY DAY SCHOOL
& SCHOLASTIC JUNIOR GOLF PARTNERSHIP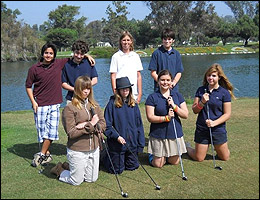 ECDS boys and girls are pictured prior
to practice at La Costa Resort & Spa
ECDS introduces a brand new, exclusive golf program to its students for the 2011-2012 year! Scholastic Junior Golf has partnered with ECDS to provide students with an opportunity to learn "the sport for a lifetime."
This special program will re-define that golf can be taught to anyone at any age – you don't have to be an athlete to learn to play. Our program will teach the life skills of golf to students together with receiving instruction in putting, chipping, full swing, and mental preparation. The major focus will be a classroom atmosphere combined with exciting practice facilities at ECDS, La Costa Resort and Spa, and selected facilities where students will learn the fundamentals of golf. Steve Simons, CEO of Scholastic Junior Golf will teach the class in conjunction with golf professionals at La Costa Resort and Spa and top high school players and coaches in San Diego.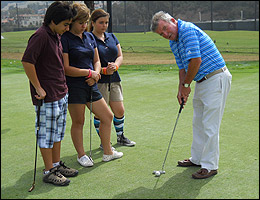 The SJGA program with ECDS features
trips to wonderful North County Golf
facilities, here with Steve Simons

ECDS's golf class will afford the opportunity for each student to develop self-respect through learning golf's basic concepts of integrity, honesty, responsibility and caring for others. Academics, fun, consistent performance and self-confidence will be stressed from the beginning. Each student will be taught to perform under pressure, and learn to improve each day. They will share golf's positive experiences and also learn to handle its set-backs.
Students will be shown documentaries and videos to learn both the history and current events on the PGA, LPGA and Senior Tours. Geography, where events are played, key states and cities will also become part of the program. The major tests during each semester will be named after the Grand Slams of Golf.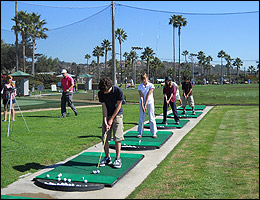 ECDS Students working on swing
fundamentals at Del Mar Golf Center
This will be a fully interactive program that incorporates students' and parents' participation.
Each student will be individually evaluated to determine their specific needs. They will learn the history of the game, rules and the mechanics of putting, chipping and full swing.
COURSE OVERVIEW
¤ Introduction of the history and rules of golf
¤ Special emphasis on golf etiquette, honesty and fair play
¤ Golf scoring and terminology
¤ Teaching of the golf grip, proper stance and pre-shot routine
¤ Putting, chipping and full swing
¤ Learning to repeat tempo to execute shots
¤ Hitting off tee, shots from the fairway, rough and sand bunkers
¤ Teaching of club selection and course management
¤ Integration of geography to learn about where PGA & LPGA events are played
¤ Instructional and inspirational videos to enhance this program
¤ Thorough evaluation of each student. Program designed for students to advance at their own pace
¤ Parents have open-ended options to attend class and practice sessions